Design yourself
your patients' orthodontic dental appliances
3D orthodontic design software – Deltaface
Why experts use DeltaFace

Compatible
Compatible with all dental scanners and 3d printers

Fast
Intuitive and easy to use for better productivity

Multilingual hotline
Multilingual hotline and online training

Flexible licences
Rental or permanent licence
Deltaface is a 3D software aiming to help dental laboratories and orthodontists to design their own appliances thus improve their patients experience.
Deltaface allows you to import standard STL files from all types of dental 3D scanners: intraoral scanner or desktop scanner. It also allows to export STL files to any type of 3D printer: SLA printer, 3D printer filament, DLP printer, resin 3D printer.
Deltaface is composed of three modules:
–_Arch Base, to design dental model in 3D from an intraoral scan or a plaster scan,
–_Aligner, to design clear aligners: invisible braces
–_Appliance, to design nightguard, molar band or many other types of orthodontic appliance.
–_UBrackets, The first CAD software in the world for in-house bracket designing and printing. Allows also the creation of indirect bonding trays for bracket placement.
Deltaface is developed and maintained by CORUO in Limoges (France), known for creating innovative 3D software solutions.
With its partners: academics, orthodontists, prosthetists, 3D printer manufacturers, resin manufacturers, 3D scanner manufacturers, the CORUO team is fully committed to the Deltaface project to offer the best orthodontic design software, always offering more innovative solutions.
A network of distributors and partners in France and abroad supports you in your digital journey. You will find offers for training, advice, services and related products such as 3D printers and dental scanners.
We support all players in the orthodontic market to acquire or restore their digital autonomy. This is one of the keys to offering patients highly personalised solutions at competitive prices. Their smile is also our pleasure.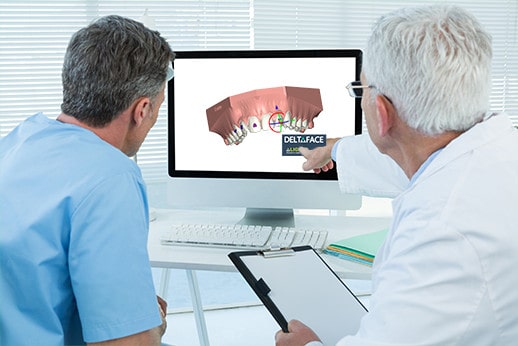 Steve Velasquez
Precision Orthodontics Appliances, Colorado, USA
"I just wanted to give a shoutout to DeltaFace! Like most other dental labs we've relied on free software to prepare our dental scans for printing. While preparing a scan with free software is possible it does take some time and expertise to get things just right. I started looking for alternatives. In my research I discovered DeltaFace. Now, this is not free software but it is a very very inexpensive alternative to the big name software that everyone in our field knows about. If you want a simple way to prepare a dental models for basing, labeling and hollowing, then you really should take a look at what DeltaFace can do. If you need to perform any other special editing beyond what DeltFace is designed to handle then you can easily export to an STL and edit with the software of your choice. DeltaFace has saved me hours and hours of time and it's well worth the small software investment. Plus, there are no monthly fees, once you buy it it's yours to use. I highly recommend checking them out!"
Dr. Ujjwal Pyakurel
Shangrila Dental Clinic, Nepal
"DeltaFace, a very good software to use provided by Coruo. The fastest among all the other types that I have used and that too with great accuracy. Icing on the cake is the excellent Customer support."
Dr. Andrew Ip BDS (Adl)
MRACDS (GDP), Grad Dip Ortho (JCU), Australia
"I have been using Arch Base (for dental model creation) and the Aligner module. Both of these are efficient, effective and easy to use. Even though I'm located on the other side of the world, customer service and communication with the development team has been exemplary. Requests are always quickly addressed in a timely fashion. I wholeheartedly recommend this software to those who want to step into the world of digital orthodontics."